THE SECOND PIECE COMPLETES the pair to this collaborative project between the National Gallery of Victoria and Vestoj with writer Winnie Ha. Following last week's series of Adam Custins elegant images of garments selected from the Fashion and Textiles department at the gallery by curator, Paola Di Trocchio, Winnie's narrative draws from the photographic process of the shoot, the experience of observing the garments becomes enmeshed in the text. The project resolves new ways of engaging with garments in a gallery archive, revealing these seldom-seen spaces, that are inevitably hidden from view in exhibiting and storing fashion objects, exposed only for an exhibition.
***
How to Escape the Present
This is the curious thing with garments from the very distant past: the more we speculate – bring them forwards with our clumsy words, tie together loose stitches and reverse the processes of time – the more they erase themselves, in silent defiance. We lose them in our own imperfect memories, whispers misheard, glimpses misread, illusions mistaken for the real. We scrape, unfurl, peel back, and then we forget what we were looking for in the first place. But if we leave them be, they will give us a new image every time we look. They are palimpsests; faint histories partially revealed, transforming at each reading.
***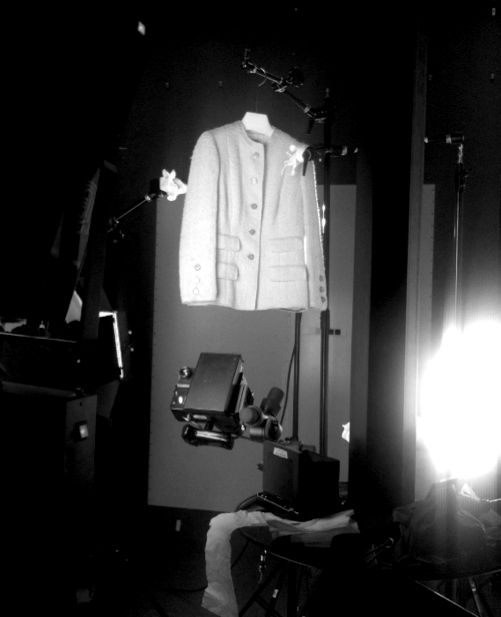 ***
Now, hanging off the surgical rail, is a diminutive English tail-coat. It is a symmetrical wonder of collars, sleeves, buttons (three on each side of the bodice), and of course a precise pair of tails, its most prominent asset, draped over what seems like a surgeon's tripod arm. This is a black bird in mourning barathea weave, its chest now deflated, hesitantly caught in mid-rescue.
Second only to the tails are the lapels – silky, slyly smiling, hiding something – coaxing us towards some hidden, internal pleasure. The surgeon peels back the large lapels with his gloved tripod arm extension and we peer in, fetishised and feverish, and discover, a matrix of repetitive stitch lines extending from around each armhole; black on black, criss-crossing to form geometric grids, or else marching mechanically side-by-side forming concentric patterns. This might possibly be an incognito bird, hiding in the coded micro-landscape of grids, lines, squares, bubbles, tiny ripples of secrecies.
***
They tell us that this black bodice is part of a majestic mourning gown that would have been worn around the year 1908, perhaps only once. Its sleeves are politely tucked behind its back, elbows bent in symmetry. Our attention is drawn to its raised textured surface, slithering with black cords and flat braids, their fern-like fronds creeping in darkness across the black surface. The woman who wore this had wanted woven hair instead of these cords and braids. She would have been comforted by her body crawling with the hair of the deceased – but she was not granted this solace.
The surgeon had separated the bodice from its skirt and in his unbridled enthusiasm had prematurely opened up the hooks and eyes all along its front, exposing for our pleasure the magnificence of the internal handwork. All around the bodice are stiff stays of varying lengths, arrayed with calculated distance apart from the one another.  They had the monumental job of keeping the woman in mourning upright in her moments of despair, whether real or feigned. They stay hidden between the lining and outer fabric, their existence referred to only by the securing stitches. The person who had put them there had a wicked sense of humour; each stay was fussily secured with five contrast stitches in dull gold thread, in a half starburst pattern – a skeletal hand bidding a perversely cheerful 'hello'. On her centre back, on the tape that runs along her waist, there is a stitching of a big 'X' – black on black: she had taken a vow of secrecy, on a promise made between her and the black bird.
***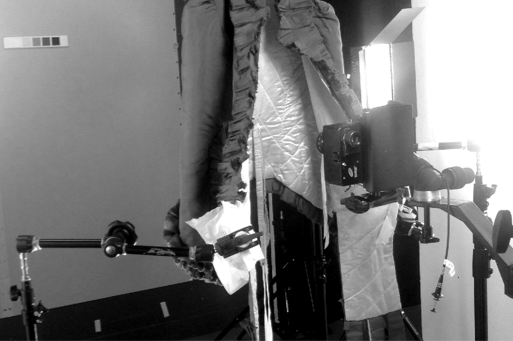 Next the surgeon wheels in a structured dolman in silk faille. The little grey lilac creature is a work of stiff symmetry, with calculated ruffles around its neckline, hem, cuffs and down its centre front. It extends longer at the front – a pair of dangling tongues – wanting, longing, feeding. With his white gloved-hand on a tripod arm, the surgeon pushes back the shoulder. And then, poking into the dolman's low armholes, we see the woman – elbows bent – revealing part of her arms, with her hands permanently and symmetrically poised to receive, to greet another. We gaze straight into the mouth of each sleeve, then into the dolman's underside – into her interior. The mouth is a cavernous expression, rudely golden in the light, awkwardly open just so: a gaping, a gasp, aghast – a silent scream fixed in place. Lined in contrasting cream silk, the fleshy innards are dressed with quilting lines carving the front and back bodies like surgical markings, a matrix of symmetrically paired vertical and horizontal lines that kiss at the centre back, down the centre front and side seams.
And as we look on, we discover the secret of the dolman: a pair of elastic ties at the centre back waist, designed to secure it in place by wrapping around the woman's waist. They are a pair of lovers stretched out on a quilted bedspread, arms touching, fingers curling towards one another. Had the woman thought about them in this way? She had been gone for a long time. Right now the pair hangs in silent partnership – one slightly longer than the other – waiting, the full length of their sides touching. Around the year 1880 someone had stitched them in place, had meant for them to be together for a long time.
***
Next: a cream boucle wool jacket, with gold buttons and a chain circling the hem. To get the full effect of its circular motion, it is raised high so one peers upward into its internal void. From below, the chain floats weightlessly; a quiet miracle where gravity is mere perspective. This will never be worn again, harbouring a weighty history that has stubbornly ceased to continue. The chain must link and unlink. Over the course of time, after repeated attempts at remembering and amending, and after all these attempts at reversing the processes of time, we realise that all stories must fall apart, must be wholly re-imagined.
***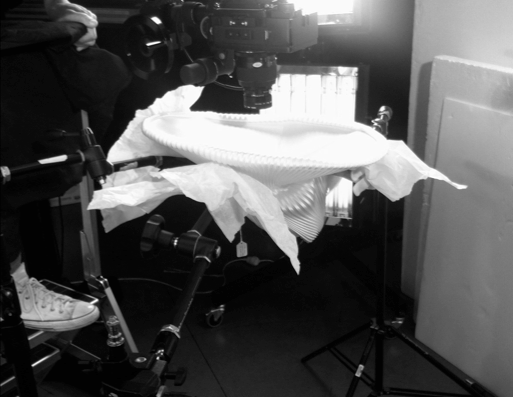 And then, nervous punctuation mid-sentence – an exclamation mark mid-story: a curious hat makes its way onto the surgical table. It is a mass of fine accordion pleats draped around a broad brim. The pleated cream satin dances in careless, improvised whirls, folding around itself in a circular motion and forming soft peaks and melting folds. It is a mysterious formation – a swift, spontaneous dance of soft, vanilla cream – oozing and drooping. The surgeon, in one clinical move, flips the hat around to reveal the mechanics of its conceit. The pleated satin is draped and secured around a small circular form at the base of the hat – a cyclonic device which holds the swirls together, tentatively, by its sheer internal force and tension of the dance. But I say, let us not forget, that on the other side of the eye of the cyclone, lays a bright little red cherry: the heart that makes it dance.
***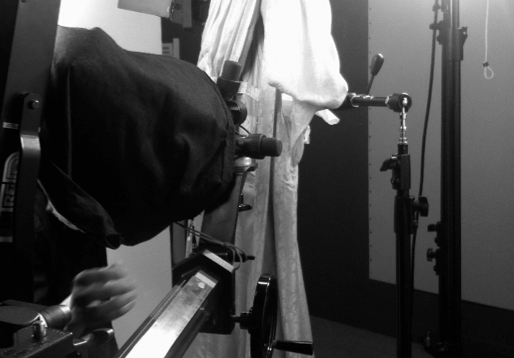 We are nearing the end, and, hanging, in heavy folds of cream brocade and silk, is a full-length English dress from 1895. It has a high neckline, and drapes heavily on the front and back. The two leg-o'-mutton sleeves, with full-fat-fecund potential, hold more than one pair of arms. The milky fabric smells like dairy-fresh flesh, the skin held together by the lovers' seal locked within the weave. A long time ago, for a brief period in their lives, they had been brought together and then held apart before they destroyed each other. The dress sighs in folds and tucks, the gap between each breath a falling apart of a seam, and the weave loosens and the skin wastes away, so that with each breath taken, a tiny part of the lovers' seal is unlocked.
This is a dress of seams that breathe; they inhale to hide and exhale for escape. It is a dress for two lovers, who, for a long time now, have been held at arms' length from each other, and when the dress finally falls apart they will meet again, for a brief while.
***
Waiting at the back of the row is the bride, dressed for the sole purpose of greeting her husband for the first time. But this is what we have imagined – perhaps she had loathed that day in 1885. Her dress, assumed to be originally covered in lace, but all that is left are traces of surface stitching where the lace might have been placed, and later removed. Her cream satin skirt now hangs lifeless, and makes no protest when it is pried open at the centre back, revealing the whalebone crinoline floating around her hips. Two circular scaffoldings orbit an imaginary centre, creating a void. As she walked down the aisle, her hips swaying side to side, the crinoline might have trembled.
***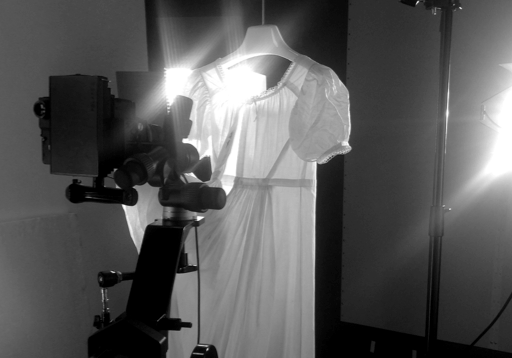 Lastly, floating on the photographic stand, is a woman-child in the shape of a delicate, white cotton dress. Before she was a bride she had dared to dream of other loves, other lives. Now, strung up by her shoulders, she is merely swaying in this clinical place. Her gentle, puffed sleeves are crinkled from a late morning rise. The white flowers, seeds and leaves embroidered on her hems would have once liked to sing and dance on the lawn. But for now, she is mute. Her back is turned towards us. She is slit open, down the full length of her back, from the neck past her waistline, to reveal her interior. The void in her being is temporarily padded out with tissue paper, her paper-thin skin peeled back. The surgeon has to work quickly. The lights, cameras and sharp instruments are all pointing at her. In the light, she is so translucent that she is almost not there – only an impression and a faint outline are left of her. For a while I thought she might have just escaped. At the base of her neck is a little ribbon; someone close would have tied that for her, before fastening her with hook and eyes down her back. On the inside of centre back seam, is an inscription of her name. Each time she was tied in, someone would have seen and whispered it to themselves.
Then the camera takes its shot, catches her just before she flees – or does it? And then we wait for her to re-emerge from 1818 – a magical conjuring, a chemical-synthetic, spiritual-ectoplasmic divination. And as the image begins to float to the surface of the photograph, she herself plates up the pièce de résistance: the dress without the body, the ghost without the form, the name without the person: 'Caroline Foster'.
***
All photographs taken on the day of shooting at the National Gallery of Victoria.