Our issue 'On Everyday Life' is now on sale worldwide in the bookstores listed below. If you live far from bright lights and big cities, or if you're the lazy type, simply scroll down and buy it directly from us, allowing about ten days for delivery. We send EU orders from Germany, and the rest of the world from the UK.
Should you live outside of Europe or North America, we recommend tracked shipping. Please contact [email protected] for the best deal for you.
CURRENT ISSUE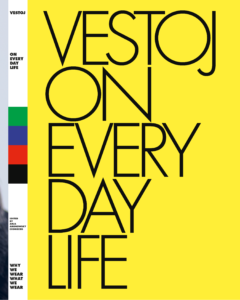 Please note: the email associated with your PayPal account may be used for our newsletter/marketing purposes. By purchasing an issue, you agree to these terms.
Vestoj 'On Doubt', 'On Authenticity' and 'On Capital' are still available for sale in book form. Vestoj issues 1-7 are now sold out, though you can still purchase ebooks of the issues. Please use the form below.
For library, institution and company purchases, please contact [email protected] directly.
Selected Stockists
Amsterdam
Athenaeum Nieuwscentrum
Antwerp
MoMu, IMS
Arnhem
Walter
Bath
Magalleria
Berlin
K Presse, Do You Read Me?, Pro QM Buchhandlung
Beirut
Papercup
Bristol
Papersmiths
Brussels
Wiels, Candide
Bucarest
Punch, Dispozitiv Books
Chicago
Graham Foundation
Cologne
Walther König, Funk Magazine
Copenhagen
National Gallery of Denmark
Dublin
The Douglas Hyde Gallery, Atrium
Edinburgh
Fruitmarket Bookshop
Florence
Bjørk, Gucci Garden, Fashion Room
Genève
Beckbooks
Hangzhou
Dorbeetle
Helsinki
The Finnish National Gallery
Hamburg
Gudberg Nerger
Hong Kong
Ka-pok
Kuala Lumpur
Basheer Graphic Books
Leeds
Colours May Vary
Leipzig
Mzin
Lisbon
Under the Cover
London
Walther Koenig at The Serpentine and Whitechapel, Claire de Rouen, Artwords, Charlotte Street News, Tate Modern, Tenderbooks, Kioskafé, Shreeji Newsagents, Ti Pi Tin, Somerset House, Stag & Bow
Los Angeles
LACMA, MoCA, Resevoir, Family Bookstore, Arcana, Hammer Museum
Madrid
Magasand, Museo Reina Sofia
Melbourne
National Gallery of Victoria, Handsom
Mexico City
Casa Bosques, Taxonomia
Milan
Reading Room
Montreal
Ibiki
Mumbai
Paper Planes
New York
McNally Jackson, MoMA PS1, The Strand, Spoonbill & Sugartown, Import Store
Nicosia
Moufflon
Nottingham
Ideas On Paper
Oslo
Abookadabra
Paris
Shakespeare and Company, Palais de Tokyo, OFR, Yvon Lambert, La Manufacture
Porto
Manifesto
Rotterdam
Het Nieuwe Instituut, Boekhandel Snoek
Rushden
Magazine Heaven
San Francisco
Owl Cave, Reliquary, Import Store
Seattle
Frye Art Museum
Shanghai
Labelhood, The Mix-Place
Sheffield
La Biblioteka
Singapore
Basheer Graphic Books
Stockholm
Papercut, Moderna Museet, Konst-ig
St Paul
Idun
Tallinn
Lugemik
Tel Aviv
Hamigdalor
The Hague
LhGWR
Toronto
Art Metropole
Vancouver
Neighbour
Venice
Bruno Bookshop
Warsaw
Acephala
Zhenjiang City
FishOver/没鱼有闪店
Zhoushan City
One Half In/一爿旧店
Zurich
Lorem (not Ipsum)