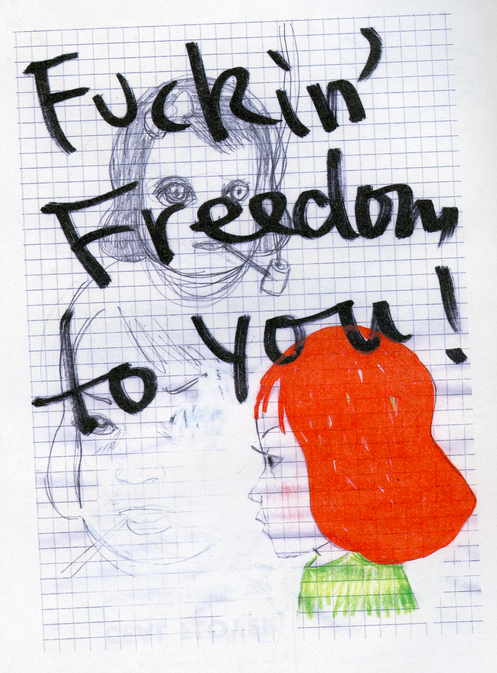 'Freedom on hold' read the caption on the cover of the April 2020 issue of Vogue Portugal. In a visual reference to Magritte's 'Kiss,' the cover showed a black-and-white image of two people, in medical masks, kissing. Created at the onset of the global COVID-19 pandemic, the cover became a viral sensation and one in a series of attempts to capture and define the pandemic-induced social changes.
The freedoms that the COVID pandemic stripped us of were many – the freedom to see and meet our loved ones, the freedom to travel, the freedom to go out, the freedom to traverse our cities. Many of these freedoms we had never even thought mattered so much – and giving them up felt bitter – but also justified. Especially, once it became obvious how the issue of freedom can be manipulated in many a nasty way by the far right, anti-vaxxers, anti-lockdown protesters.
Fast forward to 2022, it feels impossible not to think about the many meanings and ambiguities behind the word 'freedom' on Vogue's cover, and also about the ambiguities and controversies that the very idea of 'freedom' holds. Fashion media and fashion marketing open up a vast discursive space to think about the inconsistencies and ambiguities within 'freedom.'
'Freedom' is a word that is shamelessly overused in fashion media and fashion marketing. The term is a staple of fashion campaigns – which a brief look at ads of the past couple of years can confirm. The Berlin-based e-tailer Zalando, as one example, routinely 'celebrates freedom' in its seasonal campaigns. Having assumed the slogan 'free to be' in 2019, the e-commerce company has since presented a slate of freedom-centred campaigns, including the most recent 'Dresscode: Freedom,' featuring pioneer Finnish LGBTQI+ activists.1 Then there is the recent #FINDYOURFREEDOM campaign by Fila,2 H&M's campaign 'celebrating freedom and empowerment' (through their skatewear and swimwear collections!);3 Givenchy's 2018 collection 'celebrating the freedom of having a good time,'4 and, in 2021, Calvin Klein was asking on Twitter: 'What does freedom in the body look like for you?' If you are wondering what this might even mean, feel free to 'discover' their campaign, in which 'a collection of avant-garde talent explore the questions we ask ourselves.'5
In contemporary fashion campaigns, editorials and magazine articles freedom is casually and seemingly randomly assigned to products, campaigns, people. Freedom appears as an unequivocally positive thing, and manifestations of freedom are routinely celebrated. Freedom is also promised to you, the reader and consumer, as long as you buy a freedom-inducing item. Freedom contains a contradiction: seemingly, there is an abundance of it, and yet it is highly desirable and appealing. According to fashion media, freedom can be gained through fashion and consumption of designs. Thus, one Instagram post by Vogue US reads:
A woman's body is a battleground, as recent legal rulings have reminded us. And whether the fight is over what a woman may or may not do with her body, or how that body is 'supposed' to look, the question at the heart of the conflict is the same: How free is a woman to be herself? Fashion has — well overdue — begun to embrace models who don't fit the sample-size 0 mould and emerging brands like @EsterManas treat shape inclusivity as a first principle in collection design.6
The post suggests that fashion has been hindering women's freedom, making women feel like they aren't free to be themselves. Then it outlines a solution to this dilemma that, paradoxically, also comes through fashion and from the designers who are beginning to embrace the diversity of women's body types. Therefore, the 'freedom' that women are attaining is still defined by the inner logic of the fashion industry and can only occur if women cooperate and agree with the conditions set up by the fashion industry. This paradoxical emptiness of the term 'freedom' evokes the philosopher Michel Foucault's statement that there is no freedom from the power of discourse. Power, in the Foucauldian sense, is ever present and it is adaptive and flowy, incorporating and coopting resistance and languages of resistance.
Similarly questionable is the collocation 'freedom of expression,' another cliché of fashion marketing and media. While fashion media usually encourages readers to embrace their 'freedom of expression,' they are also encouraged to do so by choosing from a pre-selected repertoire of designer clothes. Seemingly, you are given the freedom to express yourself, but you are also required to do so within designated parameters.
Foucault's theory of power resonates with the critiques of neoliberalism and research on consumer empowerment, brand authenticity and corporate social responsibility initiatives of the late-stage capitalism. As communications scholar Sarah Banet-Weiser effectively argues in her book 'Authentic TM,' currently, we live in the era where the political, the emotional and the personal are branded. Political commitments, grand social responsibility gestures, big claims about freedom and empowerment, while not always disingenuous, end up serving as marketing and branding tools. It is only logical that in the contradiction-laden neoliberal culture the aesthetic of freedom functions as a powerful incentive to shop. The 'freedom,' promised by fashion marketing campaigns and fashion media, is wistfully portrayed through the symbols and language redolent of the big liberation movements of the second half of the twentieth century. Campaigns, fashion features and editorials speak of 'community' and togetherness, presenting images of 'free-spirited,' determined-looking young people.
A recent, Spring Summer 2022 campaign by Etro, shot by Mario Sorrenti, is called 'Empire of Freedom' and captures 'a new reality, where you can just be yourself,' as per the brand's instagram page.7 The Dutch edition of the Numero magazine thus comments on Etro's campaign: 'Freedom is living according to personal parameters, better if shared with kindred spirits. Freedom is enjoying the moment, lightheartedly. Empire of Freedom is the title of the new Etro advertising campaign, shot by Mario Sorrenti in a space that is both a commune, a house, and an atelier. A laboratory where we live and build, all together, a new reality, sharing passions and exploring the energy of youth.'8 Evoking the style and political drive of the 1970s, the magazine proceeds to describe the campaign as 'an opportunity to reinvent, looking at the future all together with new eyes: the eyes of youth with the spontaneity of a community, following no rules and no orders.' In all its vagueness, this description refers to all the powerful markers of political change: 'reinventing the future,' 'youth,' 'spontaneity of a community,' 'following no rules.'
And yet, despite the community-centred talk, the ways to gain freedom remain largely private and individual – they do not involve organised community action. The freedom discourse of the fashion industry casts 'freedom' as something shoppable, aspirational and private. Freedom emerges as a commodity, something that you receive as a bonus, along with your apt fashion purchase.
On our go-to fashion pages, we are steered towards 'liberating' shapewear, and 'emancipating' skincare with ads for freedom-generating perfumes sandwiched in between. 'Rihanna's first Fenty drop of the decade is all about freedom,' reads a headline on the website of British Vogue.9 The article proceeds to describe the Fenty collection notes, quoting the press release: it 'fuses punk military styles with sports luxe, encouraging free thinking and free movement.' And yet, isn't it absurd to claim that free thinking should be encouraged through the highly private and quite elitist act of consumption?
Indeed, the venues towards freedom that fashion and lifestyle magazines encourage are often private and de-politicised. A video from Refinery29, titled 'Finding freedom through roller skating,' narrates a story of a young woman who turns to roller skating as a way to 'feel good,' and has found respite in it from her unfulfilling and 'toxic' job.10 Another Refinery29 article outlines an ever more escapist take on freedom. In the article, titled 'Why Black women are finding freedom in being delusional,' the author confesses to be 'fuelled by my own delusions' and argues for not 'subscribing to reality.'
It is by no means easy to be delusional; in fact, it is easier to remain preoccupied with the unrelenting misery of life. Take dating right now as a straight woman; anyone in it knows what it feels like: hungrily rummaging through garbage in hopes of maybe finding a half-eaten banana that will sustain you until tomorrow. It is demoralising to see myself aggressively barter for crumbs of affection and respect. Applying delusion to my love life looks like constantly working to remind myself that I am worthy of love, I'm not 'too much,' and the companionship I desire is out there. Every day I look out at the toxic single-use-plastic-filled sea — I'm told there are plenty of fish in — and convince myself that someone is my match. Delusion is about taking stock of your surroundings and telling yourself there is more to life than this.11
The article acknowledges the harshness of the current political reality, recognises the adverse conditions black women are forced to brave, and speaks critically of the dating culture in a patriarchal society. And yet it offers an escapist solution to this issues in de-politicising one's life and 'choosing' to see it differently in order to 'soar.' With almost a Matrix-level dilemma about struggle and denial, the article provokes a question about what freedom is supposed to feel and be like.
I am certainly approaching the 'freedom' discourse in the fashion industry and media with a great deal of ambivalence. Freedom in itself is a slippery, evasive and hard-to-define idea. And then, shopping and consumption have been recognised as empowerment venues for women, helping women gain a wider recognition of their rights as consumers. Similarly, it has been argued that fashion and lifestyle media (that historically have targeted women) have widened women's access to modernity. Lastly, as Roopali Mukherjee and Sarah Banet-Weiser demonstrate in their co-edited 'Commodity Activism: Cultural Resistance in Neoliberal Times,' we live in times when political intent and authenticity are expressed in a variety of seemingly contradictory ways, shaped by the logic of consumption, spectacle and visibility.
But it is probably the urgency of the currently unfolding crises that make the freedom discourse in fashion and lifestyle industries seem so irksome. In times of political turmoil, climate emergency, disinformation and human rights crises, can we even afford to to shop and delude our way to freedom?
In fashion marketing and magazines, freedom is often shown as something glossy, aspirational and enjoyable – freedom seems to always be within your reach. But freedom, the history shows, isn't really supposed to be an easy gain. The story of the Civil Rights movement, feminism, queer movement all attest to the fact that liberation is not an easy task. Fights for freedom aren't called 'fights' for nothing. Media's escapist narratives seem to declare that freedom from oppressions is unachievable. And yet, don't the stories of organised freedom movements of the twentieth century give us a glimmer of hope that the opposite can be true?
Lately, it does appear that lifestyle media are embracing alternative ways to speak about freedom. Over the past decade, fashion magazines have become more politically conscious, and are obviously searching for new, non-trivialising ways to speak about politics. Teen Vogue offers one example of how a fashion magazine can tackle the freedom discourse.
The notorious 2016 article 'Donald Trump is gaslighting America' established Teen Vogue's reputation as one of the major pop-cultural political commentators. The magazine has effectively sustained that reputation ever since by extensively covering politics in the US and internationally. The references to 'freedom' that the publication are mostly political and concern freedom of speech, freedom of press, freedom of movement. To see these references in a media that claims to be a fashion publication is highly unusual, and sobering.
On a par with 'celebrating freedom,' another cliché thing to say is that 'the personal is political' – and it seems like the time has come for fashion media and the fashion industry to re-think what that means nowadays. Maybe, in search of the political, the industries that so skilfully cater to the private joys, pleasures and desires, should start looking beyond the personal.
Ira Solomatina is a researcher, lecturer and writer whose interest lies in the intersection of globalisation, gender and fashion.
---