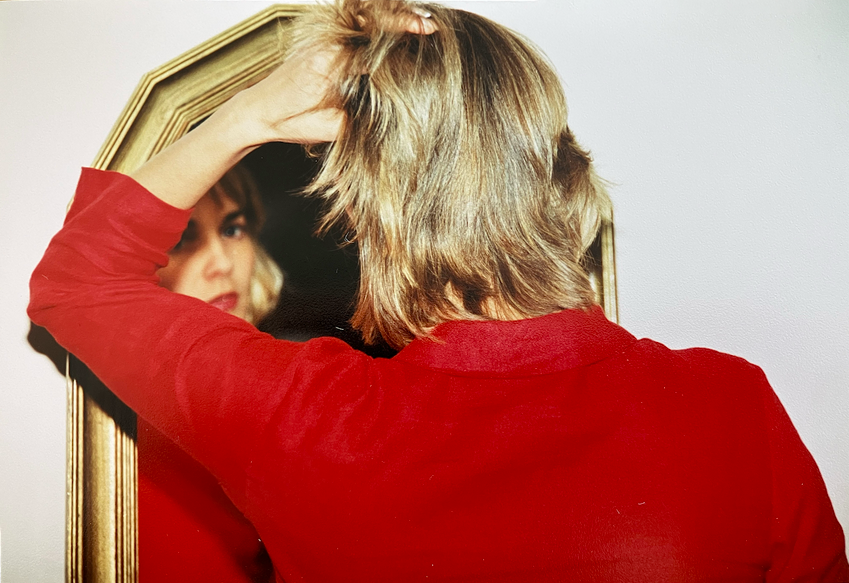 Our mothers are quite alike. They were born in the same year and had kids around the same age, around the late 1980s and early 1990s. They both have hot temperament and many opinions, and hold onto the elusive quality called 'good taste,' whatever that means. They even kind of look alike: beautiful blonde women who enjoy getting dressed. And both of them are aware of the attention that they get for their impressive appearance. They know how to make an entrance and an exit, too. In their photos, captured by our parallel fathers, in parallel worlds and times, we see them either dressed up or holding us as infants, glancing back at us as adults.
Around the age of our mothers from our childhood is right when we met, stepping into our thirties. On a night sitting together on a rug with wine, with no plans but a sense that we had all the time to talk in the world, we travelled down the winding staircases of our lives. We discovered that we shared uncannily similar wardrobes for special occasions, exciting moments of growing up watching your mother get ready and thinking she is so dazzling and beautiful, and the quiet ways we closed doors to make our own style.
I
The First Communion Dress
White linen dress with transparent silk layers flowing down, covered in small twisted pink silk roses. Made in Italy.
My mother had just returned from a trip to Italy. Almost in a whispering voice, she invited me up to her room where on her bed was a big white box printed with classical, thin, pink cursive lettering on top. We opened it together. Wrapped in layers of tissue was a beautiful little dress with white crocheted gloves placed delicately on top. She and my zias had selected this dress together in Rome for my first communion.
It was the first moment where I was given a piece like this: charged with importance and formality. Stepping into it, it was as if I was being nudged into a new chapter, guided by this tribe of stylish women in my family. They were teaching me about the power of dressing: I could reshape who I was by choosing a powerful garment.
Opening up that box together, my mother was gently guiding me onto the start of a journey to eventually seeing myself as a woman, or at least as more than a child. I remember it was so quiet, so intimate, so special. I also vividly remember feeling terrible that I had to wear tights with sandals; I thought it was so unstylish.
II
The Older Sister Dress 
A high-neck slip dress, bare shoulders, white synthetic fabric with a choker full of pink beads falling down.
Our grandmother bought this for my sister when we were staying with her for the summer in a small town in northern Israel. A big event was about to happen in the neighbourhood, a wedding of a famous basketball player – the kid next door who made it big time – and my grandma, their longtime neighbour, was of course invited.
Before going to the wedding, she bought us both dresses. I was maybe six years old, so I got something sweet and non-important. But my sister got this dress. It was white – I still do not know why my grandmother bought a white dress for a wedding – but it was incredible. Both my sister and I felt that it was the most insane thing we had ever seen.
Then I remember my mother seeing the dress after returning from vacation and hating it. She thought it was so tacky; the fabric was cheap, unlike the garments that she bought for us. The thing she loathed the most about it was that it was way too sexy for a kid; a sentiment that was alien to me. Of course, she wanted nothing less than to explain that to me at the age of six. So trying to make us not so excited about it, she would subtly say things like 'Your grandmother has such a provincial, awful taste.' Maybe that made us love it even more.
Several years later, when my mom was not home, and knowing my dad was not aware of the ongoing negotiation about the dress, I decided to wear it for a bat mitzvah. After all those years of playing dress-up in it, it finally fit. It was probably the first dress that I had ever worn that didn't cover the knees and something about the bare shoulders made me feel so mature. That night, I felt like a swing dancer with all its beads swinging every time I moved. Although my love for the dress was innocent, I felt so powerful and rebellious loving that tacky dress she hated.
The Bed
In my parents' bedroom, independent of time or place. Not a specific house or a specific bed. This transformative entity was the ground base to every conversation between me and my mom.
The year I was born, my mother started her own company which was one of a kind in Israel back then. It was creative direction for cultural events. So she basically gave birth twice that year. She grew up in the northern part of the country where modesty played the biggest part in any styling decision. Weirdly, it was not about how covered you were, but rather how much not up-to-date you were. Styles, in all of its aspects, were and are considered to be superficial.
In the beginning of her professional life, she studied history and worked as a writer. But in an early stage, she made a decision – she always talks about this moment – to start her own company. She also decided to dress like the manager that she became, and not, as she describes, like the mom that she was to my big sister and brother. So we grew up together, me and my mom's new wardrobe.
But it wasn't a 'dress for success' kind of boring thing. She always had these big openings. Weeks full of events. So what she would wear was a huge question that I waited all year long to discuss very passionately. We used to lay our selection of clothes on her bed and talk for hours about combinations, day and night events, mixing and matching. I was a kid in elementary school but she gave me the space to make decisions on her outfits. I guess some of them were shocking but some a good fit for her. Anyway, considering where she came from, her style was anything but common.
We stumbled across shared rituals between mother and daughter. We had watched our mothers performing rituals of femininity so many times, putting their makeup on, twisting to see themself from the back, and drying their hair. This choreography of womanhood, the unsaid gestures of arranging yourself as a woman, the secret layer of appearance our mothers showed us countless times. Despite growing up in different cultures, our mothers' relationship to getting dressed and the ways they onboarded us to it shaped our identity, acting as anchors for us to go back to as women.
And then there is a period when we push them away. It can feel destabilising when you feel her inside of you. When I use face cream, her hands move through mine. Even as we search for autonomy, there are certain aspects which are simply too deeply embedded and embodied. Even with your shield and armour, they slip in. This is a feminine inheritance.
The Nightgown 
White silk, knee-high, blurry blossom pattern, tiny pink lace finish on the chest.
My mother purchased the nightgown for me during a trip to Rome. I had just celebrated my eighteenth birthday and it was just the two of us on our first trip together.
That gift, similar to the reason why we went on that vacation in the first place, gently hinted at the fact that I was about to start my mandatory military service.
We absorbed the city's beauty under the spring sun, rebelling against that oncoming change hovering over our heads, eating ice cream, and walking the corridors of Villa Borghese. I think she wanted to comfort herself and me, so she took me to that chic store and bought that downy fabric garment with the sweetest, dreamiest pattern. Quite the opposite of what I was to wear for the next two years.
That was a tender afternoon of trying on airy, soft lingerie together in an intimate dressing room. We changed together since forever and my bare body beside hers felt warm and safe. It felt like playing dress-up; the silky lingerie wrapped my body so sensually. I had never worn anything like that before. Even though I had my doubts, seeing her so excited to see me in that elegant and grown-up new light convinced me. We chose a white nightgown and I carried it in its milky see-through wrapping paper for the rest of the afternoon.
All this happened a few months before my first love changed our relationship. It was that lucky soul-grasping, mind-transforming first-love kind of love, and I happened to fall for a girl. Looking back, that vacation was the final mother-daughter moment before we separated for a while. She could not comprehend or maybe did not want to understand how I could be so unlike her, loving another woman.
Suddenly my nude body became a conflict zone. The underwear she found in the washing machine on some weekends seemed to symbolise something unspoken. I sensed her gradually separating from my body. My breasts, my skin, and my face were pulled away from what I used to think of as us: my mom and me. This disconnection, although I chose to maintain it, was painful.
The more we removed ourselves from each other, the deeper I shoved that nightgown into the old closet in my parent's house. Sweet, short, transparent, impractical, and even a bit unfeminist. I felt my underwear and a T-shirt were great pyjamas and sexier than a girly nightgown.
I actually don't know when I started wearing it, but at some point it became one of my most valuable garments. Somehow I grew into it. Owning what used to be too womanly as a utility. Ten years later, I was recently folding it and realised that it is too torn to ever be worn again. Countless washes and wears have left my nightgown so thin that the silk has fallen to pieces.
The trust that my mom and I rebuilt during this decade brought us back to her bedroom: sitting on her bed, trying her clothes on together again, and talking about when and where she got them. That specific moment reoccurs when I wear one of her old dresses for dinner. She looks at me and tells me (again) that she used to wear this dress when she started working after giving birth for the first time. In these mythologies, I hear the echo of the path she made to elevate herself: her past insecurities, desires, and passion to prove the choices she made as a young woman right.
I
The Auction Shoes
Champagne-coloured satin heels with an open toe adorned with an embellishment of amber and golden crystals.
I do not know how many times I did this. It was a default activity when I was home alone and bored. I would walk through my parent's bedroom to the closet and run my hands across her clothes, feeling all of the different fabrics and taking in the smell (she loved to wear cologne). I think that is what is exciting about grown-up closets when you are a kid; they have decades of clothing zig-zagging across fashion eras. Their wardrobes become archives of time and personal histories. We can get glimpses and references of what we have yet to experience, preparing for the possibility of what may come – fashion milestones.
I remember venturing into my mother's closet, reaching up to explore her shoe boxes, feeling like they were time capsules to special moments. These Stuart Weitzman shoes in particular. They were in pristine shape because she only wore them for one night when her painting was up for an auction as part of a film premiere. She loved them so much that she got a matching pair in a black tuxedo style.
The Ring
A Smoky Quartz ring wrapped in round cut diamonds set in sterling silver, purchased at Neiman Marcus. 
My mother was born in Bremerhaven, Germany in 1961 and spent half of her life in the USA and Italy. She is an artist. She developed her own technique based on the Italian frescos she had spent so much time with. After marrying my Italian father and having me and my brother in her twenties, she spent many summers between Rome and the Umbrian mountains where we have a summer home. The walls are filled with her murals.
Memories with her take me to being bundled up with my brother in an old red Jeep on mountain roads and fighting car sickness to pay homage to old churches and the likes of Piero della Francesca. I still find her oversized Brookes Brothers button-downs, Banana Republic dresses, and local market finds in the drawers. Slipping into these clothes, I can feel the magic of those summers, like I do from her paintings.
Back in Atlanta, Georgia, I would venture downstairs to visit her studio overlooking our garden. She would be busy working late into the night, wearing old cashmere sweaters splattered with paint, listening to classical music on the radio, smoking her Vogues, blending pigments, and carving into her canvases, suspended from reality.
She was never a 'normal' mom. But after many years I came to cherish this so much. Making art for her was never an option or hobby, but a formation of her very existence. It is a way of healing, too. I see her now.
When I turned thirty this year, my mother gifted me a ring – a proper woman's ring. It has a smokey quartz centre surrounded by little diamonds. We bought it together. I remember her picking me up after school one day. She had just sold a painting and wanted to treat herself. We went to Neiman Marcus, tried on different pieces at the jewellery counter and chose this one together. There was no need to tell my father; this was a gift for herself. I remember thinking it was so womanly and far away from something I could ever wear. But now, years later, I just wore it for the first time to my friend's wedding.
*
As daughters, we are privy to a deeply intimate space: a space where our mothers could be themselves, where they could be imperfect. All those moments gazing up at them as they prepared themselves: after a warm bath with pink skin and no makeup on, caesarean scars exposed, relaxed in their underwear, and slowly transforming into the most polished versions of themselves, preparing to be seen by the outside world. We watched their strategies of transformation: what to accentuate, how to cover, when to invest, where to buy, and how to care for the coveted.
Stepping into our thirties, there's something craving to express itself inside of us. My mother said that when she was thirty, she switched. 'At thirty, this is your moment – you are coming out.' It is an unapologetic personal style ready to be seen; it is a blend of her and me.
I messaged my mother a picture the other day in this feminine, a bit over-the-top Anne Fontaine blouse I found secondhand. She said, 'You're going through the most phenomenal transformation. But it's not a transformation, it's just you being you.'
Giuliana Mazzetta is the Managing Director of Mestiza Estudio, a Paris-based creative studio. Her interests are the intersection of culture, design, and futures.
Hamutal Hayun is a creative based in Eindhoven and Tel Aviv. Her practice is research-driven design, curation, and writing.