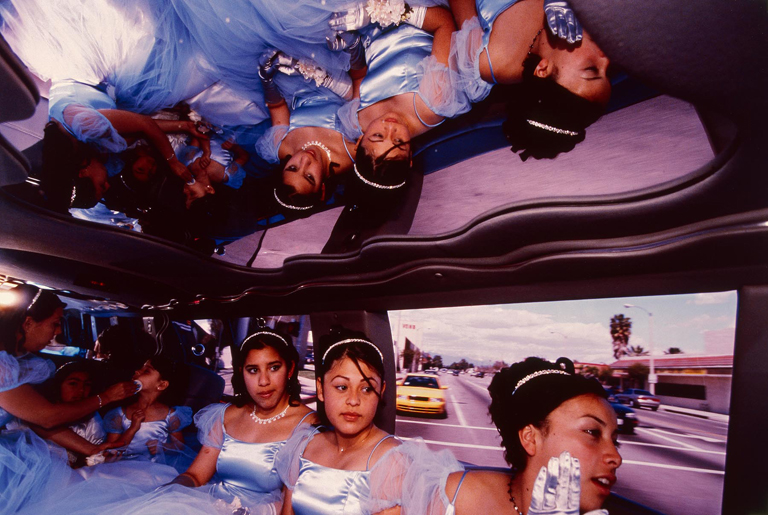 THE YOUNG QUINCEAÑERA IS seemingly always in a ball gown. She is in pink, green, blue or other pastel colour, festooned and bejewelled, and with a large skirt that sways in a way that affirms the hooped crinoline underneath. She is beautiful and brimming with excitement for her impending journey into womanhood. Her mother typically accompanies her, helping her with her dress and fixing her hair just so as the photographer captures the moment in front of a city's landmarks.
The fiesta de quince años, simply called a quinceañera in the United States, celebrates a girl's fifteenth birthday, her transition from childhood into adulthood. The significance of this day has roots in both Aztec rite-of-passage ceremonies and Spanish debutante traditions, but the quinceañera is uniquely Latin American. The customs vary from country to country, but all share the common thread of family and community. A regular occurrence throughout the U.S. where Latin American immigrant families live, such a milestone event has slowly evolved into its own.
All activities and objects that surround the quinceañera are symbolic, especially the dress which literally reshapes a girl's body into a woman's.
The quinceañera begins at a church with a Catholic Mass, the girl typically accompanied by her parents, her godparents and her court of honour comprised of selected female and male friends, siblings or cousins – her damas and chambelanes. She might wear a crown or tiara, a symbol of her upstanding morality – a princess before the eyes of God – or a necklace with a cross or pendant of the Virgin of Guadalupe, blessed by a priest. Her father might present his daughter with her first pair of high heel shoes. He might give her a doll (usually in a dress similar to the celebrante's), the last doll she will ever be given.
Afterwards at the reception is food, cake and dancing. Such an event, which can include stretch limousines, professional photographers and event planners, can total many thousands of dollars. However, true to the way of dear family and friends, these costs are commonly shared with individuals sponsoring parts of the celebration or donating time to make the day possible.
The day after, the quinceañera and her family informally continue the celebrations with the recalentado ('re-warming'). Gathered together at a family member's home with a brunch of food not eaten from the previous day's festivities, they reflect on the party, reliving their favourite parts.
The following interviews with three Mexican-American women living in the Los Angeles area speak to the memories they hold of their own quinceañeras. Each woman represents a different generation and brings their unique perspective to this important milestone. Each reflects on her passage into adulthood, family and cultural identity, and what it felt like to finally bare the physical and symbolic weight of her quinceañera as she donned her dress for the first time.
***
Julie Regalado, Pico Rivera, California, Age 50
My dress was white – back then it was white – but I didn't wear heels. We wore either sneakers or flats to church and at the party the dad or godfather changed the shoes from the flats or tennis shoes to a small heel to let people know that the quinceañera was now a young lady. That was before the traditional waltz, when the quinceañera dances with her dad.
The court – mine were cousins, males and females, fourteen of them – surrounded me while I did the special first dance with my dad. Then my father gave me to my godfather who danced with me. And then I danced with the seven boys on the court. The symbol for this was that as a young girl, I was protected by my dad. As the waltz finished and the circle around us started to open, I became a young lady. We rehearsed the dance because it had to be in a certain way. First the dad, then the godfather, then the seven boys.
I lived in East L.A. and my quinceañera was in Mexico. It was in Jalisco in a little town called Cihuatlán. It wasn't really my decision. My parents are first-generation who came to the United States for a better life. But also they didn't want to lose the tradition, the culture. Because my mom was poor and had a really small quinceañera with just family, it was way different from what I had, where I had my dress, my shoes, everything was planned, and with really traditional food and mariachi music.
My dress was white and poofy, with tiny blue flowers around the edges and along the bottom of the dress. My mother made it for me. I was not asked, 'How do you want your dress?'
When my friends and I were having quinceañeras the dresses were all white with a little bit of pink or blue or a favourite colour. But very light, not a whole lot of colour, because white signifies purity. I think for many families that celebrate the quinceañera, it was for the adults. They kind of ran the show. I was just happy I was having one.
The blue flowers were my choice though. The cake also had blue flowers. It had to come together with the boy cousins wearing light blue shirts, and the girl cousins wearing light blue dresses, and the cake with light blue flowers too. I was telling people that these are my friends, my cousins that will accompany me as I make the step from being a little girl to being a young lady.
The first time that I wore the dress, it was in a fitting for my mom. My mom was a seamstress, so she wanted it to look perfect. When I tried it on, I felt like crying. I was the last one of my friends that turned fifteen, so I saw my friends here in the States having their quinceañera and how pretty they looked, how loved, and the family… It felt like a dream come true for me. Yes, finally, I had my own.
During the ceremony, oh my goodness, I felt like a princess. That day was the day I felt the most beautiful in the world. I thought I was in heaven. I felt so loved. I had my dress and the accessories that were bought for me and given with significance. I had a little golden cross so that God will always be with me and protect me. And I had a small crown. It was just a little daisy crown that had a little ribbon and the ribbon hung at the back of me.
The celebration lasted four days. I think at the end of the four days, I felt – with everybody coming together and constantly telling stories about me when I was little, what I used to do, how I acted – at the end of those four days I felt like, OK, I'm an OK lady! It started unfolding, how hard everybody worked to come together to make it happen. It was a family effort. Everybody would just start saying, 'I have a flower shop so I'll give her flowers. And I'll get the goats. And I'll get the decorations. And I know the priest in the church.' My godparents bought a pig just for me, just for the quinceañera.
The next day we had leftovers and everyone came together to my grandma's house. And the topic was the quinceañera. That makes it nice, special, to hear that all these people are a part of your life. I appreciated it more because I knew that my mom and my dad were not rich. They came here for us to have a better life yet wanted us to experience the quinceañera ceremony from the beginning to the end.
I am married – a beautiful ceremony – but it doesn't compare. I still remember my quinceañera; it is my best memory. It even tops me getting married. I have a nineteen-year-old daughter, she had a quinceañera and I tried to make it the same. But I think as time has passed, quinceañera are a little different. The ceremony part has changed a whole lot.
You know, I love my father to death. He is no longer with me, so when I think of my father, that's the moment that I remember. It was the only time I walked down the aisle with him. My father had six girls, but with me that day, I really felt I was an only child. No one else existed except me and our bond, the experience we shared. He also did a speech of how he saw me grow up and how I was now fifteen. And having six girls and for him to come out with six different speeches, to me it was, wow. I felt that day like an only child.
***
Marvella Muro, East Los Angeles, California, Age 41
I'm an only child, but I also had a babysitter with four daughters who were older than me. I basically mimicked them. I think that I just thought it was part of the process. Qunceañeras are also connected to Catholicism, so although I don't consider myself a devout Catholic, it was part of the culture and I was excited about it but also hesitant because I'm very shy and I don't like attention. I didn't know if I really wanted to go through with it, but I just said, OK, what the hell.
I had a dress and flowers; we also had a car decorated with tissue flowers. A lot of people get low riders, but I didn't. My quinceañera was on a budget. Usually people have them in a hall with a whole court with fifteen people, but I didn't have that. I just had two little girls, myself, and my godparents, and then we had the party in our backyard. My mom's co-worker's son was the DJ, and there was a pot luck and my friends from high school.
The dress is not supposed to be purely white; there are always different colour accents. Pure white is for a bride, so I added peach. Going back to the four girls that I grew up with, they had a collection of bridal books from the late eighties and early nineties. I would look at those dresses and I liked the simplicity. I think that's why I liked my colours, the off-white and peach. I think it was satin; nice but inexpensive. The colours today are so bright sometimes – they look really great because they are so out there, but again I don't like attention.
I had my dress made from those bridal books. We got a family friend that knows how to sew to make the dress. She was the neighbour of my mom's co-worker, a Cuban lady in her sixties in Alhambra. I showed her the picture and she said OK, this is what you can do, and she told us where to get the material. We went downtown to the Fabric District for the fabric and the flowers too.
I made all the centre table arrangements. I turned over a small styrofoam bowl and put fake baby's breath on it and a candle in the middle with a ribbon around it. I also made the party favours: a little straw hat with a ribbon that said 'Marvella Muro' and then 'Quinceañera..' I glued a little magnet at back and I burned myself with the glue gun. I think it took two months because it was after school after homework, an hour or something every day.
The ceremony of wearing flats to heels to transition into becoming a woman, no, I didn't do it. There was a hesitation of having so much attention on me, so I just did the bare minimum. I did have the waltz, but the waltz was with my godparents and then the men came in and they danced with me, so it wasn't rehearsed. I participated in other quinceañera where there was a rehearsed waltz, and we would rehearse for a month, every Saturday. And it's fun, but the limousine and all of that… people will spend thousands of dollars.
I felt excited and embarrassed when I first put on my dress. It was the same feeling when they did my hair and put on my make-up. It was the first time that I was allowed to wear make-up, so it was toned down, not too flashy.
My quinceañera was in a small chapel in East Los Angeles, the Santuario de Guadalupe. I think the majority, if not all Catholic churches, have the Guadalupe because if its prominence in Mexican culture. Fresh flowers were offered to her as a thank you and protection.
After the ceremony, I felt different. It was a combination of two things: you are still the same, your body is the same, but at the same time, I was like, wow, you're fifteen and you've gone through this whole process and, you know, you make up new responsibilities for yourself as a teenager. Like social responsibilities as you go through your teens, through puberty, as your body changes. And now you can wear make-up and what does that mean? What colours are you allowed to wear or should you experiment with? I was actually a late bloomer in regards to feelings to boys. I think in Mexican culture, dads are more strict with the girls than they are with the boys. The boys are out all night – I think that's in many cultures – while the girls have less liberties. I grew up with a single mom so… it had nothing to do with parental restrictions. I think it was just me.
***
Natalie Jimenez, South El Monte, California, Age 17
The whole experience was magical. Everyone is there for you.
My dress was a light pink colour. It was poofy at the bottom with a diamond design on the top, and a heart in the middle. We went shopping downtown and bought it at the first store we walked into. I saw it and was like, 'Oh my god it's the one.'
As soon as I put it on I didn't want to take it off. It was a girly feeling, like I was a princess. I honestly felt like a princess. I had hoped that it was going to feel like that; it was how I always pictured my quinceañera to be.
I had a crown, nothing big or anything. But when I put it on I felt like a grown up because they were crowning me in a new stage in my life. I had high heels too. I was in flats and then my dad put the high heels on me during the event. When I was putting them on it was like, OK… you know, grown ups and teenagers are always wearing high heels, so that was basically another step in your life too.
For my court, I had six guys and that was it. I didn't have any damas, just chambelanes. They were mainly just my cousins. It was easier to get them to do it and we knew their moms for their tux sizes. There were only two that weren't cousins, but they were childhood friends.
My ceremony at the church was kind of eye-opening because I was in the middle of the church and everyone is on the sides. I had to take the flowers to the Virgin Mary as a sign of thank you and grace, so that was really nice. I think there were around two hundred people. That was just close family – it wasn't everyone.
For the dances at the reception, we started rehearsing a month before. My waltz was the song 'A Thousand Years.' My surprise dances were 'Greased Lighting,' 'Footloose' and 'Come On Eileen.' A surprise dance is when you go from the waltz, which is more formal, to the surprise dance where you get to really express yourself. For the waltz, I wore my big pink poofy dress, and for the surprise dance I wore the same colour and design but basically in a mini version so I could dance.  My mom choreographed the waltz and my dad choreographed the surprise dances. Then the official dance was after that, with a variety of music played throughout the night like cumbia, eighties, pop and rock en español.
My mom didn't have a quinceañera. One of my close girl cousins had one; she had it in August and I had mine in December. I saw how pretty girls were in their dresses, like my cousin and friends who had quinceañeras. I always wanted one. Seeing pictures of the dresses and the parties, it just always caught my attention.
I feel like everyone should have one. Even if it's just a small party. It really is a good feeling. You're with your family, you're celebrating yourself and it's not like any other birthday. It's great. They should have that feeling of going into womanhood. I think because Mom didn't have one she wanted me to experience what it was to have one. She was dancing all night.
Clarissa M. Esguerra is Associate Curator of the Costume and Textiles department at the Los Angeles County Museum of Art.