IN THE FIERCELY TRANSIENT world of fashion media, emerges a pack of fashion's most distinguishable characters. The personal style of editors, journalists and directors is in constant public attention, highlighting the weight of appearance is this context. From Anna Wintour's characteristic bob and dark glasses, Franca Sozzani's lengthy blonde waves and Diane Pernet's Victorian black dress, to Anna Dello Russo's characteristic hyper-accessorising, each present a strengthened personal style that has become an intrinsic characteristic of the wearer. These elements form a heightened persona in the public eye and reinforce their position and power in the fashion industry.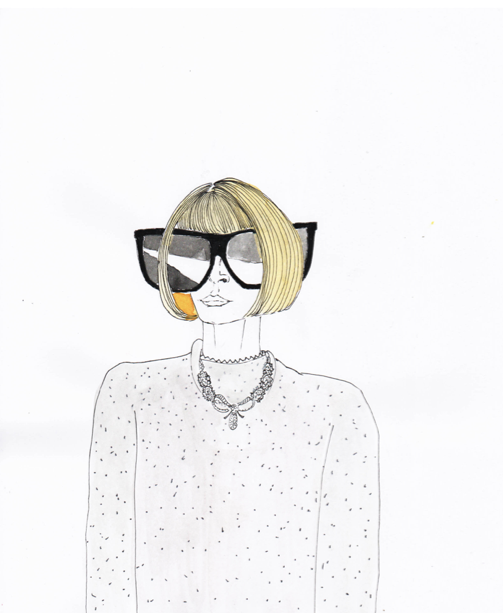 In order to unravel their appearance, we must first examine the roles these figures have in mainstream fashion media. Over the last decade there has been a marked shift that has elevated fashion's industry professionals, particularly in print, into the public eye. An increasing interest in contemporary fashion from the general public, paired with the rise in diversity of fashion media and its availability has created a more expansive landscape for brands and publications alike. Fashion runway shows, which were once a function of the industry, have become an entertainment spectacle followed widely by mass audiences on sites like Style.com. In the digital age and the so-called decline of print media, fashion publishing – both online and physical formats – continues to grow, with the additions of street-style photographers and bloggers, it has also become a popular subject for film and television. Moreover, the fashion industry, which historically has been closed-off and hidden from publicity, is now readily disseminated and critiqued by anyone and everyone. It has become a subject of fascination, with designers, stylists and editors achieving near-celebrity status as public muses. In an article for the New York Times' T Magazine, journalist Suzy Menkes describes editor Anna Dello Russo's presence at the shows as; 'The crowd around her tweets madly: Who is she wearing? Has she changed her outfit since the last show? When will she wear her own H&M collection? Who gave her those mile-high shoes?!'1 Undoubtedly these industry professionals have become subjects, and their actions, or more importantly, their dress, is point of discussion.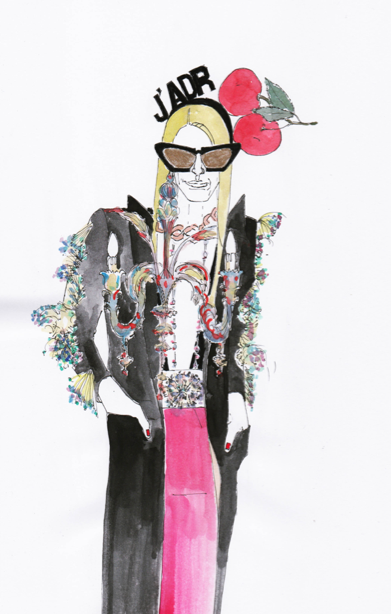 The role of a fashion editor has shifted, alongside the rise in fashion media, from a position that dealt exclusively with editorial content, to something more of a curator or figurehead for a publication. Success is granted to those with skills that are easily translated across platforms and business projects, thus editors tout themselves as highly-personalised brands. Their appearance is closely linked to their professional ability, and is intrinsic to how they are perceived within the industry as well as the public eye. This formula was particularly successful for Carine Roitfield who, after she was stood down from Vogue Paris, released her own periodical, eponymously titled CR Fashion Book in 2012, established on her own style persona and brand. Anna Dello Russo has followed a similar trajectory alongside her role as editor-at-large for Japanese Vogue, in projects like her collaboration with H&M on an accessories range in 2013, which drew from her signature opulent look.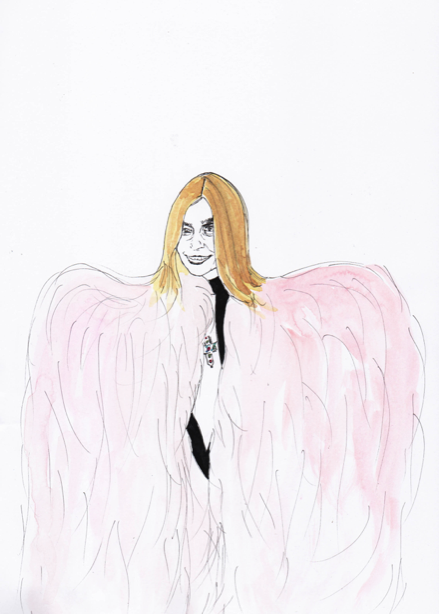 Certainly dress constitutes a form of personal expression – there is the age-old mantra that fashion should not be taken seriously, however we must not overlook the economic function of dressing in this context. Anna Dello Russo's dress, for instance, directly reflects the current seasons in an act of overt promotion. In wearing the latest designs, she reinforces herself as an up-to-date figure in fashion, which offers her a powerful status as a brand in her own right, and reinforces our perception of her as a 'tastemaker'. This makes her a desirable space for designers and brand exposure. In their dress, these women create power for themselves in an industry that is typically fickle and uncompromising, establishing an idiosyncratic and therefore irreplaceable brand. In a promotional mini-documentary Carine Roitfield did for W Magazine called 'The Client',2 the editor is seen signing a photograph of herself for a fan outside the shows. She asks 'What are they going to do with those?', to which the young fashion fan responds with a wry smile 'I'm going to sell them on eBay'.  Roitfield replies, 'Well we'll see how much they go for. It's interesting to know how much you're worth'. For A Shaded View of Fashion's, Diane Pernet her trademark black sunglasses and veiled-beehive is a look that perpetuates her work as a blogger and journalist and she is instantly recognisable in her theatrical attire. The similarly elaborate style of Daphne Guinness, has propelled her into the public eye and consequently created opportunities for her within the industry. Although she paradoxically describes her appearance as 'It's against the world. I am just going to armour myself up to the teeth until no one can get me.',3 her look has successfully provided a platform for her business endeavours, which among others includes her clothing line, Daphne, on which she collaborated with Dover Street Market in 2007, and later producing a perfume with Comme des Garçons in 2009.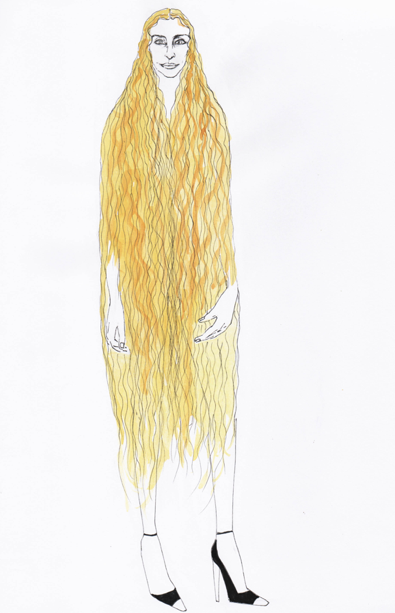 A signature look also maintains status and footing in such a changeable industry. Editor-in-chief of American Vogue and the Condé Nast conglomerate, Anna Wintour, has cultivated her signature bob throughout her rise in the American fashion industry. Consistently appearing with such a clearly defined look could arguably strengthen her position of power in an industry where appearance is a constant subject of critique; her appearance functions almost as a business suit in keeping an impenetrable persona.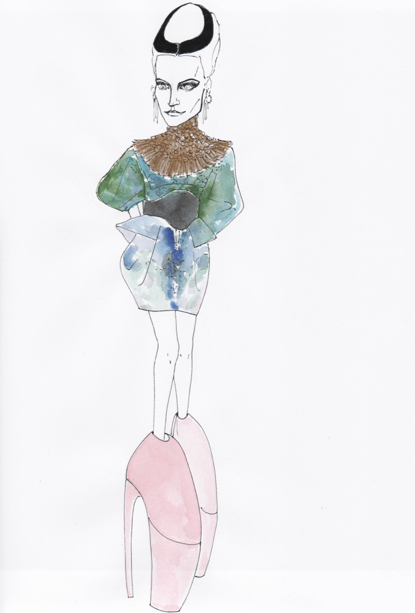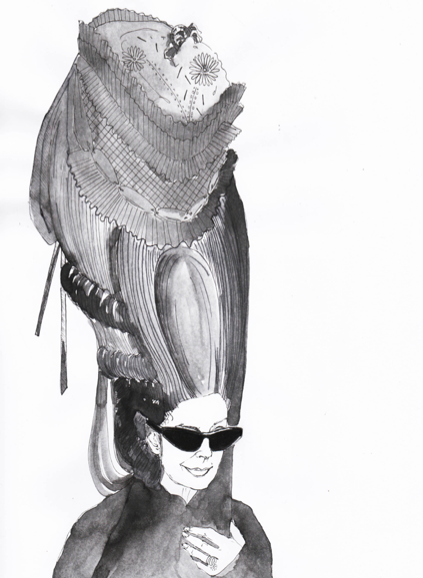 Appearance seemingly is everything in fashion, offering various functions for industry professionals, particularly in the expanding landscape of fashion media. A carefully orchestrated look forms a highly personal and inimitable brand for Roitfield, Wintour and Dello Russo that holds power and business potential. As such, status in the fashion industry is intrinsically linked with one's sense of style, revealing a landscape where business and appearance are murkily enmeshed.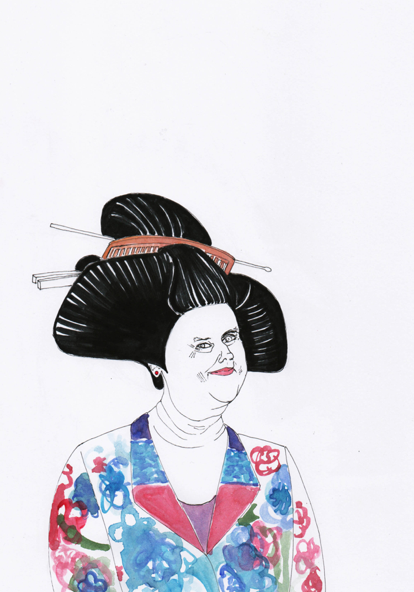 Mariuska is an Italian illustrator and designer based in Berlin.
Laura Gardner is Vestoj's former Online Editor and a writer in Melbourne.
---
'The Circus of Fashion' by Suzy Menkes for T Magazine, February 10, 2013. http://tmagazine.blogs.nytimes.com/2013/02/10/the-circus-of-fashion/?_php=true&_type=blogs&_r=0 ↩

'The Client' produced by W Magazine from 2011, https://www.youtube.com/watch?v=PZHvK7qrt-8 ↩

'Daphne Guinness' interview by Peter Brandt II for Interview magazine, http://www.interviewmagazine.com/fashion/daphne-guinness ↩