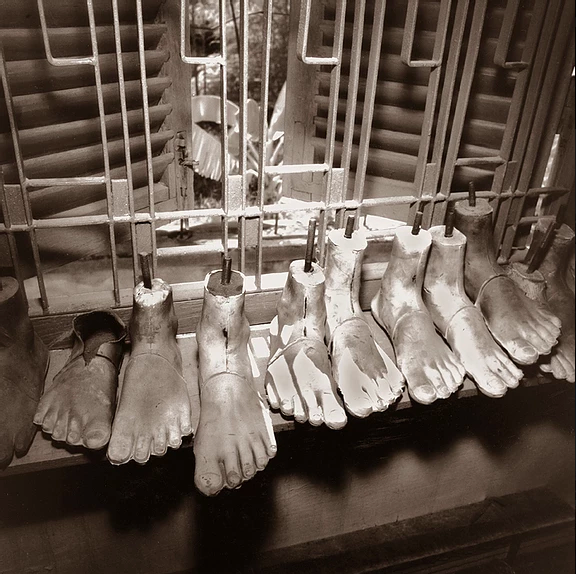 Disability is not just a health problem. It is a complex phenomenon, reflecting the interaction between features of a person's body and features of the society in which he or she lives. World Health Organization. 
26 percent in the U.S. live with a disability. 21 percent in the UK, 5.2 percent in Italy, which is where I come from. One of them is my son.
In 1999 Aimee Mullins became one of the world's first disabled models, opening for Alexander McQueen's runway show. She remained McQueen's muse until he passed away. Despite this successful collaboration, when I entered the fashion world in 2001 not much had changed in terms of inclusivity: to model you had to be thin, at least 1.75 metres tall, and have four fully functioning limbs. None of the agencies I worked for represented disabled models, and I never saw one at a casting. In fact, I can't remember seeing anyone with a visible disability in the fashion industry in those years.
In 2008 BBC Three aired Britain's Missing Top Model, a reality TV modelling show for disabled women. Many argued that the show made disability a spectator event, however, it did launch the careers of models like Debbie van der Putten, Sophie Morgan, and Kelly Knox. In 2015, Alexandra Kutas, Jamie Brewer, Jack Eyers, Rebekah Marine, and Madeline Stuart, made their fashion debuts – all of them have some kind of disability. Incidentally, 2015 was also the year of model Ashley Chew's 'Black Models Matter' tote bag.
In 2017 Zoe Proctor and Laura Johnson founded Zebedee, the first modelling and acting agency in the UK focusing exclusively on talents with disabilities. Also, in July 2017 my son was born, and soon diagnosed with cerebral palsy. He was still in the hospital when I covered Milan Fashion Week for a magazine – shows during the day, ICU at night: enough to change anyone's perception of fashion for good. I didn't feel a part of it, it was as if the clothes were meant for happy, carefree people, not for me. It stung.
A few years ago, a platoon of Zebedee models have walked for Art School, London, while Aaron Philips and Ellie Goldstein have done editorials for Gucci and Moschino. My son is now three: he can walk, but stairs are hard for him so I sometimes have to carry him because not all venues have elevators; play-parks can also be challenging. He is intelligent and perceptive, still I wonder if he will be able to access higher education, and what kind of job will he ultimately land. I'm sure he'd make a wonderful model – he prances in front of the camera like a mini David Gandy – it's just that while prancing he sometimes stumbles and falls.
An increasing amount of models with disabilities have suddenly appeared in fashion imagery. It's only right: why shouldn't disabled people have access to the fashion world just like everyone else? On the other hand, though, I see my son not having access to so many things, that if I picture him as the next Jack Eyers I can't help thinking: why modelling of all things? Why fashion? Perhaps I'm just like all those parents who flinch at the idea of their children modelling because, you know, they should be studying law, or building the next Eiffel Tower, except that I really like fashion, and it's my source of income, so why shouldn't it be the same for my child? Why shouldn't it make him happy? But that is exactly the point: would it make him happy? And why has fashion become so interested in disability in the first place?
Mine is a tricky position; I might be living with disability, but I am not a disabled person. I face the challenges only indirectly. The disabled one is my son, and no matter how close I am to him, I cannot feel the things he feels. I grew up in a world where disability didn't seem to exist; it wasn't in the media, and especially not in fashion media, and, at least in Italy, disabled people lived a rather secluded life – there was hardly anything around for them. When disability hit me with the force of a premature birth and an emergency C-section, I was forced first of all to dismantle my own stereotypes and taboos. But giving birth to a disabled child doesn't automatically free you from your background of bias and ignorance: it's even harder if you've spent half your life between glossy magazines and catwalks, where curvy is already big news, let alone cerebral palsy. I might be somewhat more open-minded as a mother, but as a professional, I'm just as conservative as the next person.
Being a model means partially surrendering the control you have over your body: agencies will ask models to lose weight, to work out or to cut their hair, and casting directors will turn them down if they are 'too fat,' or 'too short,' or 'not glamorous enough,' whatever that means. When a model's picture is put on the cover of a magazine, or on a billboard, then it's out there – people will see it, hopefully admire it, frequently criticise it. Body-shaming comes in all forms: we see countless fashion campaigns and editorials slaughtered on social media because the model looks 'too thin,' 'horrible' or even 'sick.' Of course, fashion imagery is not always good (whatever that means to you), and it's the photographers and art directors who are largely responsible for the final result. Still, it's much quicker and simpler to criticise the model's looks than it is to address the entire artwork and concept behind a photo shoot, more effective too, because simple adjectives that refer to the person, like 'ugly,' 'ill' or 'fat,' are easily grasped by everyone, unlike the more complex words that define photography and styling. Also, young models who don't have an involved agency behind them are much less likely to publicly respond to these critics than a seasoned professional. Our bodies are the result of the life we have lived so far and should therefore be respected: this is unfortunately not always the case. And if a body happens to belong to a model, then passing judgment is actually considered acceptable, the down-side of a well-paid job. When disability is involved, this is even more disturbing: the absence of disability in fashion specifically, is partially connected to a lack of inclusion of visibly different people who may not meet beauty stereotypes. These stereotypes on an 'able' body, are slightly easier to defeat because, no matter how standardised, beauty is still a subjective matter. But there is nothing subjective in disability: it's either there or it isn't, and this is perhaps why we feel entitled to say things like 'the model on the wheelchair' in the same way that we would say 'the model with brown hair,' or 'the skinny model,' except that it's not the same. All bodies come with a story, a personal one, and the story behind a disabled body is likely to have several dramatic chapters. That wheelchair, for example, is the result of a medical condition, there is pain behind it, struggle, trauma: it means finally being independent, but also facing the fact that you can't do things the 'normal' way. It can't be changed, no matter how much others talk and glare, and while disabled people might eventually come to terms with their disability and accept it, I doubt they appreciate being defined by it.
Part of my mixed feelings in front of fashion campaigns featuring disabled models simply comes from being the product of an ableist society that grapples with conflicted emotions in front of diversity, and this, of course, is a huge problem. But more of it comes from poor communication; I think tokenism, my son randomly being 'used' by brands taking advantage of his disability to improve their image and increase their revenue. I imagine him labelled as 'disabled' and suddenly it becomes too much to bear. I speak openly about my child's disability, and I will encourage him to do the same, but I guess I'm not ready for random strangers, who don't know what's behind that word, using it carelessly and putting it under the spotlight. Would I feel better if I knew that at least 20% of models had some kind of disability? Perhaps.
In 2020, writer Melissa Blake modelled at New York Fashion Week wearing an outfit from Zappos Adaptive. She then reported to CNN: 'I grew up in the 1990s reading magazines like Cosmopolitan and Glamour, where the pages were filled with the likes of Cindy Crawford and Naomi Campbell. As I'd flip over each glossy page, I was always hoping to see disabled women like me, but I never did. Where were the models in wheelchairs? Where were the people who looked like me? The reality was that they just weren't there, and this absence has as much to do with our society's beauty standards as it does with fashion itself. These strict beauty standards dictate what is and isn't considered beautiful and, by default, acceptable.'1 Models' bodies are considered aspirational, the rise of models with disabilities questions an acceptable form of discrimination in the industry. I dare say that beauty, like many things, is also a matter of education: just like we sometimes require some kind of education in order to appreciate different forms of art even though they may not meet our personal taste, we also need to educate our eyes and minds to diverse forms of beauty. For decades we've seen nothing but 'perfect' bodies in magazines, to a point that if someone slightly different appears they immediately stand out, and not always in a good way. Disabled models struggle to get signed to an agency because, apparently, the market isn't ready. Some are asked to disguise their disability, for example by wearing prosthetic limbs. But isn't that just going back to the old stereotypes? Why hide the disability? To protect who – the model or the viewers? If 'the market is not ready,' is it because disability is so shocking or because our taste for beauty has been watered down by countless stereotypical images?
While disability is not a beautiful thing, and not because of how it looks but because of what it is, disabled models are beautiful: their beauty is unique, different from what we are used to seeing, and it defies the current – ableist – aesthetic canons. Most of all, they are models: they have the right attitude and confidence in front of the camera – they know how to pose. A disabled body can be harmonious, it can be proportionate, it can be photogenic, it can wear fashion well – it's just a matter of how standards are set. Today, young children with Down's Syndrome can see Ellie Goldstein looking regal on the cover of Glamour and know that they could too. When Aaaron Philips is shot for Moschino like a sexy pixie, the alluring attitude of models is suddenly taken to the next level. And I find Debbie Van Der Putten's glamour shots refreshing even after decades of women being shot naked just because. Inclusive representation is liberating, and it's the only way for disability to stop being the main feature.
Recent campaigns and collaborations have proven diversity to be an excellent marketing tool, hence perhaps the industry's new interest in disability. However, people with disabilities are still underrepresented and this sometimes leads to the poor communication that I am so afraid of. A brand is seen as 'good' when it features disability in a campaign, and the campaign itself is typically praised for raising awareness. But inclusive representation is not 'good,' it's fair, and the models we see in those campaigns are not there to raise awareness – they are there to model. Zoe Proctor of Zebedee Management makes this very clear: 'Our models are always casted on their skill and talent. Age range and gender are a big part of casting along with clothes size occasionally. I do not believe that any models are cast due to their disability alone.'2 However, Proctor also says that while there is an increasing amount of specifically casted disabled people in advertising, there is still a lack of incidental disabilities in campaigns – inclusivity is not standard, it is still not 'normal.'
In fact, being disabled is not normal, and not because of disability itself but because of the way society treats it. I'm thinking of prejudice, of ignorance, of the staring, and also of more practical things like architectonic barriers. Most people with disabilities could lead 'normal' lives if they were allowed to do so. I would like my son to be considered a schoolboy with his own individual skills, not a 'disabled schoolboy.' On the same note, I guess I wouldn't want him to be a 'disabled model' but simply a model. I'd like him to be casted with his disability, not 'because of' or 'despite.' Still, if I look back at how things were when I was younger, I know that there has been an improvement where inclusivity is concerned, and while I'll never really stop being scared, worried, and even resentful (because I am) I do feel relieved about my son being born today and not twenty years ago. I hope that he will grow up in a more inclusive world, surrounded by all sorts of people both in real life and in the media, and that this will encourage him to thrive or just make him feel less alone, less different, more beautiful.
Sara Kaufman is a fashion writer, living and working in Milan.
---
cnn.com, Opinion: Someone told me I'd never model because I'm disabled. I proved them wrong at NY Fashion Week. By Melissa Blake, October 31, 2020 ↩

Interview with author, October 28 2020 ↩